Deftones Lucky You Japanese Rice Lager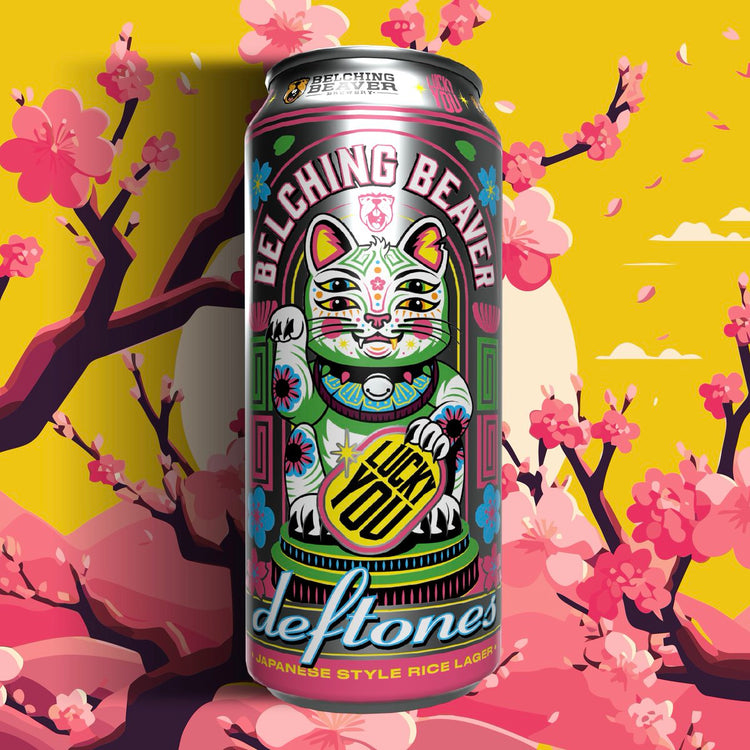 Deftones x Belching Beaver Brewing Co. Collaboration Beer: Lucky You!
Are you a Deftones fan looking for a new way to savor the band's essence while enjoying a refreshing beverage?! This is the eleventh collaboration between these creative powerhouses, and it's guaranteed to take your taste buds on a journey while invoking feelings of good fortune...
A Symphony of Flavor 🍻
Lucky You Japanese Rice Lager boasts a unique flavor profile that is sure to captivate both beer enthusiasts and Deftones aficionados alike. Starting with a delectable crispiness that dances on your tongue, it's an invigorating experience from the very first sip. As the flavors develop, you'll be treated to a clean malt finish that leaves you with a sense of satisfaction, much like the euphoria that follows an unforgettable Deftones concert.
Serendipity in a Can 🍻
The name "Lucky You" perfectly encapsulates the essence of this collaboration beer. Holding that can in your hand, you can't help but feel a sense of excitement and privilege. As you indulge in the brew, you may find yourself contemplating whether this is more than just beer—perhaps it's an opportunity to become the protagonist in your own life story, just like the main character in the band's music. The sensation might lead you to wonder, "Are all songs written about me?"
Rest assured, you're not going crazy. It's the magic of Lucky You taking hold, amplifying your senses and transporting you to a world where anything is possible. This beer is more than just a beverage; it's an experience designed to elevate your moments of relaxation and celebration.
A Collaboration For The Ages 🍻
The partnership between Deftones and Belching Beaver Brewing Co. is a match made in heaven. Both entities share a passion for creativity, pushing boundaries, and delivering exceptional experiences to their fans. Their collaborations consistently prove that when the worlds of music and craft beer collide, the result is nothing short of extraordinary.
Deftones' frontman, Chino Moreno, has always been a vocal supporter of quality craft beer. His passion for the artistry and dedication behind brewing is evident in each collaboration. Partnering with Belching Beaver Brewing Co., a renowned brewery with a strong track record of excellence, ensures that Lucky You lives up to the band's high standards.
A Toast to Good Fortune 🍻
So, the next time you crack open a can of Lucky You, take a moment to savor the experience. Raise your glass to the fortunate circumstances that brought this unique collaboration to life. Let the flavors of the Japanese Rice Lager transport you to a realm of blissful melodies and unforgettable rock anthems.
Cheers to being the lucky one who gets to enjoy this extraordinary brew. Remember, with Lucky You, nothing will ever be the same!
Disclaimer: As with any alcoholic beverage, please enjoy Lucky You responsibly and in moderation. This article is purely for informational and entertainment purposes, and it does not encourage excessive or underage drinking.